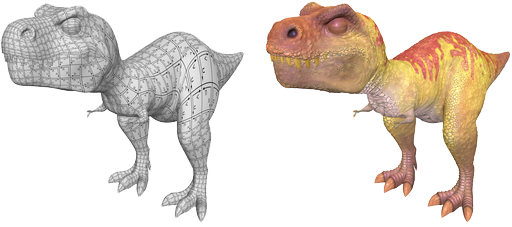 Model with 2694 faces rendered with Ptex. No explicit UV assignment was used. The largest texture layer, the fine-scale displacements, has 836 million texels stored in a single Ptex file with individual face resolutions ranging from 64 x 64 to 2048 x 2048 texels. No seams are visible across faces, even under
close magnification
.
(© Walt Disney Animation Studios)
Motivation
There were many drawbacks to traditional texture mapping methods that led to the development of Ptex:
UV assignment was a tedious task, and making good UVs on complex models was difficult.
Texture seams could produce visible artifacts especially with displacement maps.
Large numbers of texture files were required creating a significant I/O bottleneck.
Ptex addresses all these issues by eliminating UV assignment, providing seamless filtering, and allowing any number of textures to be stored in a single file.
Ptex was used on virtually every surface in the feature film Bolt, and is now the primary texture mapping method for all productions at Walt Disney Animation Studios.
Major Features
Supports Catmull-Clark subdivision surfaces (including quad and non-quad faces), Loop subdivision surfaces, and polymeshes (either all-quad or all-triangle).
Several data types are supported including 8 or 16-bit integer, float, and half-precision float.
An arbitrary number of channels can be stored in a Ptex file.
Arbitrary meta data can be stored in the Ptex file and accessed through the memory-managed cache.